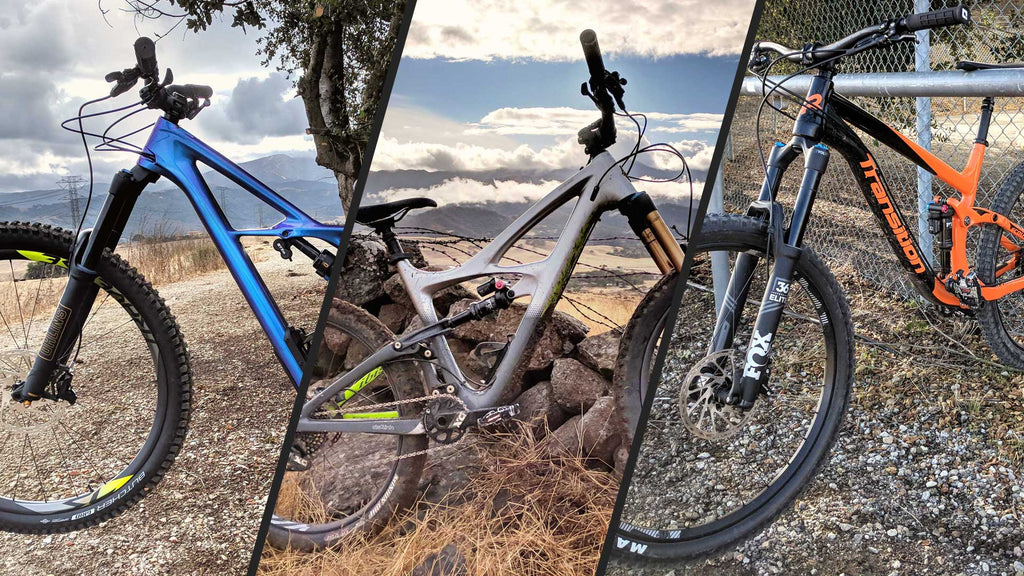 I had the awesome opportunity to demo some amazing new bikes recently at Dirt Demo Days at Santa Teresa Park in San Jose, California. This steep and very technical park was a perfect place to test the limits of these new models. Here is a virtual demo experience in case you are interested in one of these bikes, and to reinforce the value of a bike demo - if you're in the market you got to do it!
I have to say they are all beautiful specimens, each with their own special qualities, and it was very much like playing the dating game to have to choose one of the three.
First up, Bachelorette #1...
Ibis Mojo HD4
 Stability & Speed
The HD4 features a completely redesigned geometry with a focus on stability and speed. Definitely an Enduro champion rig! Stability is a perfect word for how this bike handles in rock gardens, off-camber jumps and extreme conditions. Given my experience riding many different bikes up here in this park, I know that the Mojo HD4 would also excel in my favorite trails in Santa Cruz such as Sweetness and Mailboxes.
This bike feels like it's a part of you and would fly and do just about everything you would want it to or were capable of in any Enduro riding environment. Truly an all-around bike that does it all. 
Components
The Fox Float X2 shock was beefy and absorbed everything that it hit and soaked up whatever I jumped. I didn't even have to lock it out on the climb and it rode like a champ in the mud....Amazing. The Fox Float DPX2 shock was simple to tune for rock Gardens and then a couple clicks for the big jump of the park. The upgrade Fox Float X2 option may be a plus with a climbing switch, although this shock was amazing. 
I trusted the refined carbon layup and the frame stiffness was a plus in precious handling. It can take big hits like a pro. The 64.9 degree head tube angle is a happy medium. Normally I prefer more slack although it works with this bike's 30% stiffer upper link, 40% stiffer lower link to create a confidence in the saddle that is actually more aggressive than it looks standing alone. What an adaptive piece of engineering! Also the 27.5" wheels take up to 28" tires!  
And next up, Bachelorette #2...
Specialized S-WORKS Enduro 2018 29er
A Thirsty Horse on a Mission
I cannot believe it is a 29er! The "Purple Haze" S-WORKS Enduro 29er caught my eye. I cannot believe how amazing this bike rides, I never wanted to ride a 29er now I want to buy one!
At first I thought the Wu dropper seatpost was set up incorrectly as it looked like it was angled for a dirt jumper. The seatpost was slightly challenging to get used to on the climb but impressive in the descent. At times I caught myself pushing for more drop yet I was fully positioned perfectly while going through some of the gnarliest rock gardens of the park. The Wu dropper does not have the extension of other seatposts but I found it stable and solid. 
The first time I sat on the saddle a Tech came up reached under me and bled the Ohlins shock. I was shocked to hear and feel the blast as he said it "was self-adjusting the sag to my rider weight." He had me bounce up and down a couple more times and bled it one more time and a little more came out. It was super trippy and a little drippy! The Ohlins shock when fully dampered climbed up the incredibly steep Santa Teresa grade like a Thirsty Horse on a mission! I opened it up and then sent it down Rocky Ridge full speed. Gliding over rocks, launching over obstacles, tail whipping over things I see every ride but now had the ability and confidence to Rock! The Ohlins smooth and subtle performance is a key component to why the 2018 Enduro is a dream bike in my opinion. 
Flip Chip Advantage
I had the flip chip with the raised height for the aggressive climb, and yet it was also very nimble on the technical rock garden descent. It was amazing how the higher bottom bracket performed incredible not only going up but going down one of the trickiest mountain bike rides in the Bay Area. If I were to take this beauty to a more aggressive downhill experience like demo, sweetness, mailboxes or Downieville, I would lower the bottom bracket height by simply flipping the chip and have an incredible, more raked Enduro than it's predecessors.

More Aggressive Geometry
Honestly I haven't rode in Enduro in a while but from what I understand it has more rake and a more aggressive geometry then even last year's Enduro. I love a bike that can ride so well uphill and then be so prepared for nimble handling through the craziest things I can throw at it downhill. While in full dampering I whisked up the notorious steep Santa Teresa grade. Then I opened up the shock and had more confidence descending on this 29er then I do on my personal 27.5 bike I ride consistently up there every week. One factor is that the 29 inch wheels we're able to glide over many obstacles and was able to corner and handle the tight rock gardens better than my regular bike. It was counterintuitive, although due to the geometry the rear wheel is tucked in tight for a 29 wheel. Overall I had confidence, stability, performance and pleasure that exceeded my familiar bike in my own backyard that not only left me smiling, but wishing I could take it other places.


S-Works vs. Pro
The S-works has a beautiful blue finish with a pearlescent "purple haze" that casts off it in the light, but at a price point that it is out of my reach. Therefore, as I've done in the past, I would go with the Pro model and get nearly all the benefits including the Ohlins suspension (although the fork is slightly different). 
Both the S-works and Pro model have carbon rims, and
 the rise and sweep of the 800mm wide bars they both have, felt just right. The 
explanation I was given by the sales rep to the 
main difference for the Pro model was t
he new Ohlins STX Boost forks that 
operate on a single tube compression. What I tried 
on the S-Works were the 
Ohlins TTX Boost forks that were exceptional, up and plush yet responsive down
.
 All honesty, I didn't have time to thoroughly check out the SWAT Hideaway door and updated steeer-tube-stashed multi-tool chain-tool. All the bikes I rode had the high-end Eagle 
drivetrain set up so shifting was a solid unchanged variable. The Enduro stood out to me possibly because I've had two Enduros with the 
Horst Link suspension. It fit like a glove and rolled like a dream for me.
And last but not least, Bachelorette #3...
Transition Scout
Springy Little Billy Goat
First off I have to be transparent, I really wanted to ride the Patrol, but it wasn't available so my next best choice was this Scout. 
At first sight, I greatly underestimated how big things come in small packages. I thought this bike probably didn't have enough travel for me to even demo. It turned out to be one of my surprise favorites. It was also a great bike to ride after the other two because I did the same enormous loop on the other bikes twice and with the Scout I felt refreshed! Springy just like a little billy goat that the Scout is. Tougher than imagined, perfect center of gravity for any angle up or down on the mountain. This bike had the highest, most "Flickability" around period. 
Transition's (SBG) Speed Balance Geometry is the real deal. I could not believe how much agility it can hold given any terrain or challenge. My front wheel always had a shark bite climbing or descending which is so rare! Often the wheel of a slack bike feels very far out in front of you although on the Scout you could feel this bikes ability to adapt into whatever situation is needed from nimble back and forth handling to being able to hook it fast over obstacles and gliding through rock gardens. No matter what speed I was at I always felt I had incredible traction with both tires unlike any bike I've ever rode. I actually tried to get this bike to break free of it's grip but the Scout has unbelievable "handlebars!"
Components

The Transition's Giddyup 2.0hhh suspension and Enduro Max Bearings were unbelievably responsive, quiet, and I believe durable, which is something many bikes lack as they creek and don't respond the same further down the trail. For the Scout you have different packages as far as suspension is concerned. I rode this model with the same Fox shock and fork as the Ibis Mojo HD4 mentioned above, with the same exceptional results. The "12x 148 boost rear-end" is not only a key aspect of the "SBG" but had me feeling I was sitting over the rear wheel in just the right spot. A small amount of increased chain stay gave very efficient climbing and stability.
Some extra perks are the extra long seatpost insertion, molded rubber frame protection, rattle-free cable routing that makes this a good long term lover, especially since on occasion, I like to put in a standard seat post for bike parks and high altitude riding.
The Scout is an awesome mid-travel bike and excellent for a rider at any level. I believe you will truly grow as a rider with this bikes wide range of assets.
Scout vs. Patrol
While the Scout was super fun for Santa Teresa Park's challenging accents and rock gardens it left me intrigued about the Patrol. I feel like I could take the Scout to any one of my local rides and it can handle some big hits. Although, the Scout having 130mm rear & 150mm front suspension with 27.5 wheels, and the Patrol having 160mm rear/170mm front
with same wheel size, for me I could see the Patrol would have just that added travel to give me the confidence to push harder and really Send-it. Also to the Patrol's echoing reputation that it "compensates for a rider's skills" by helping you rollover what a smaller travel bike might hang you up on. This coming from an passionate Patrol owner that said "it's simply is just a little more of the same bike, I love it and can keep up with anybody on any trail."
Therefore while I would love to have Arya's Sword in my quiver, it is undoubtable that the Patrol would be a better fit for some of the larger obstacles I enjoy boosting over. (Basically I I think I want to date her older sister!)
Dirt Demo Dating Game Summary
To wrap up, here's a summary of Pros & Cons and the nickname each one earned - 
Ibis Mojo HD4
A.k.a. "Original Gangsta Player"
Tough & Diverse
Traditional feel
Not enough lay back and slack for how much I like aggresive downhill riding in an Enduro bike
Specialized S-Works Enduro
A.k.a. "Smooth Glider", a.k.a. "Purple Haze"
Easy up and down
Slanted seat post takes some getting used to
29er has advantage of gliding but worried will lose some accuracy compared to 27.5 version (will have to demo that next time!)
Wu seatpost may not have enough travel down for me
Dream Bike
High price point

Transition Scout

A.k.a. "Needle" or "Arya's Sword"
Nimble & Accurate
Flickable/Climable
Can't believe the responsiveness
Not sure there is enough travel for me
Leaves me intrigued about the Patrol - with a little more travel this could be a good possibility for how I like to go up and down hill.
Choose your mate -
They were all impressive rides, but IF you have to choose one to enter into a serious relationship with, ask yourself these questions -
Want a 29'er with superior handling in any terrain? The S-Works Enduro 29er is for you.


Looking for a classic all around Enduro champ? The Mojo HD4 is the answer.


Want a bike that blows your mind in ability to do whatever you want on command? Go for the Scout!